InPrint 2018 Exhibition, November 20-22, MiCo (Milan Convention Centre) Milan, Italy
Meet

METIS at

Stand No. 330
---
InPrint 2018 is the international exhibition in Print Technology for industrial Manufacturing.
At InPrint 2018, METIS will present its new "16K Sensor", designed to equip the DRS family scanners. Furthermore, METIS will also present the special "SURF 3D ColorGATE Edition".
---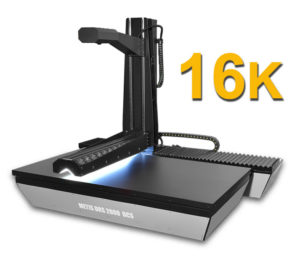 The new METIS 16K sensor allows a leap forward in the quality of colors compared to the sensors used up to now, setting the bar for color accuracy in the Décor Industry and Fine-Art applications.
Moreover, this new trilinear sensor, with 3×16.374 cells, also achieves the best native optical resolution.
This latest innovation is the result of continuous technological development supported by METIS which has the "Photometric Stereo 3D" as it's spearhead.
In 2010, METIS has filed a patent concerning a special lighting system which allowed to develop a specific Photometric method to record the reliefs of the surfaces together with the color image.
In 2014, the new "Photometric Stereo 3D" developed by METIS was already very efficient and the filing of a second patent has allowed further developments.
The mathematical algorithms developed specifically, make the "Photometric Stereo 3D" of METIS unmatched for simplicity, real-time calculation, accuracy, entirety and quality of all 3D and Color data.
Read more about the original METIS solution and software tools: METIS Photometric Stereo 3D.
---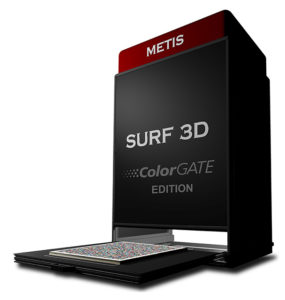 The other novelty is the METIS "SURF 3D" system that METIS presented, in preview, at InPrint 2017 in Munich.
This innovative "entry-level" system is designed to reproduce originals of small and medium size and includes all the advantages of the "Photometric Stereo 3D" and the others Metis software tools.
At InPrint 2018 METIS will also present the special version "SURF 3D ColorGATE Edition". ColorGATE is a world leader in the color management software and printer driver technology for Commercial and Industrial Printing.
Thanks to the collaboration between METIS and ColorGATE, this version integrates special software tools aimed to provide an integrated workflow from scan to print. To be noted in particular, the unique ability to also use the scanner in order to quickly and effectively profile any kind of printer without the need for using a dedicated instrument.
Read more about METIS "SURF 3D" and the "SURF 3D ColorGATE Edition".
---
Meet us at Stand No. 330, we will be pleased to show you our products and demonstrate the state of the art in surface digitization!
 Download the InPrint 2018 exibition map.
For more info about InPrint 2018 visit the following link
For more info on how to reach InPrint 2018 visit the following link
Read more about ColorGATE
For more info about METIS SURF 3D visit the following link
For more info and to attend an appointment with us click here