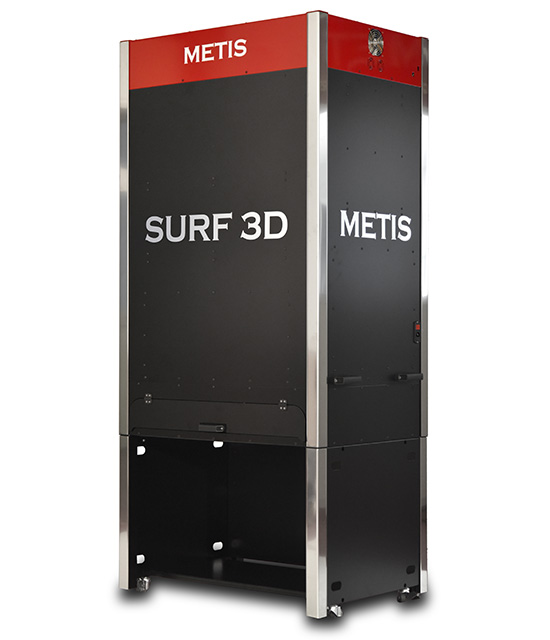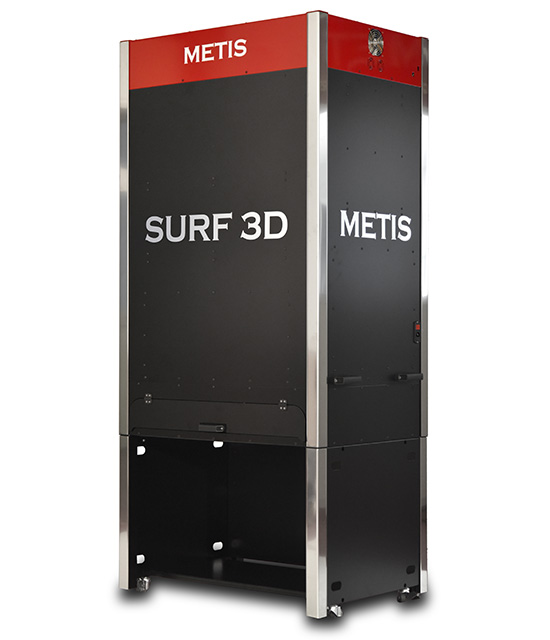 SURF 3D ColorGATE Edition video

METIS SURF 3D
The new compact surface scanner specially designed for Decor Industry, Designers and other creatives!
It integrates METIS cutting edge technologies such as natural color capturing, 3D data calculation, glossiness and more.
Also available the special ColorGATE Edition
General details
Welcome into the new compact scanning technology!
SURF 3D is a revolutionary scanner designed and manufactured by METIS previewed at the InPrint exhibition (München) in November 2017. This scanner is capable of capturing color, calculating 3D embossing and glossiness information in less than 1 minute from materials like wood planks, leather, stone, textile, wallpapers, tiles, fine arts, etc.
SURF 3D provides features that are not available in an ordinary scanner such as extended customization over the lighting of the original and 3D embossing data (e.g. for using in 3D printing or embossing applications).
Therefore, the SURF 3D scanner is particularly aimed to medium size digital printing applications requiring color, 3D data (e.g. reproduction of small fine arts, customized phone covers, restaurant menu with fancy cover, wrapping objects with special materials, creating gadgets, small productions, proofing, etc.); medium size ceramic and wallpaper applications; 3D rendering applications, where the scanner can be used to capture material properties (Diffuse Map, Bump Map, etc.) in order to perfectly reproduce the material in CGI and CAD applications.
This scanner can generate color accurate high-resolution images including a 3D Depth Map (embossing data) and Glossiness Map (representing the surfaces reflection properties).
The SURF 3D scanning software has been designed in order to provide extremely simple usage without compromising performances and image quality. It also integrates the METIS Light Inspector software which allows designers, among other things, to optimize color and embossing data for a specific output or use.
---
METIS SURF 3D "ColorGATE Edition"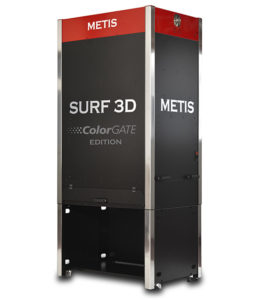 As part of the new collaboration started with ColorGATE Digital Output Solutions GmbH we are pleased to announce the SURF 3D in a special ColorGATE Edition.
For over 20 years ColorGATE has been supporting the printing industry with its color competence on its way from analogue to digital printing and the future of Print 4.0. Customers rely on innovative software solutions, RIP Software and printer driver technology for Commercial and Industrial Printing.
SURF 3D ColorGATE Edition adds special software tools aimed to provide an integrated workflow from scan to print. To be noted in particular the unique ability to also use the scanner in order to quickly and effectively profile any kind of printer without the need for using a dedicated instrument (e.g. a Spectrophotometer); this has tremendous benefits over the traditional workflow. ColorGATE software can also be further expanded in order to directly drive different printers and be tailored over specific customer requirements.
---
About the new collaboration with ColorGATE
"We find this cooperation with ColorGATE a great opportunity as we have a lot in common with them. ColorGATE is a company with a tremendous and unique technological background. We also have technology in our DNA and both our companies have been always looking for the future. Therefore, it was very natural for both of us to share ideas and then combining the efforts to address common issues that positively affect our customers", Silvia Colagrande, President and co-owner of METIS Systems S.r.l.
"We are excited to collaborate with Metis a leader in their field that shares a similar business philosophy as we do which puts the customer's objectives results in the center of the activities. Jointly we can now close the gap between digital Input and Output and provide workflows that produce the expected", says Thomas Kirschner, CEO and founder of ColorGATE.
To read the ColorGATE's announce click here
Technical Info
METIS SURF 3D: main features and specifications
Optical Resolution: 400PPI (software scalable)
Maximum original thickness: ~5 cm
Maximum scan format (without stitching): 49×32 cm
Maximum scan format (with 1x stitching): ~49×60 cm
Maximum scan format (with 2x stitching): ~49×85 cm
Integrated Camera: Nikon D850 or Canon EOS 5DS
Focusing: lens autofocus (software controlled)
Lighting Schematics: 8 independently controlled light sources
Light source Type: High CRI LEDs, IR/UV free
Very large depth of field
Capture Time (full format at 400PPI): ~ 30 sec.
Capture + Save Time (full format at 400PPI): ~ 1 min.
Acquisition modes: Scan, SuperScan
Image Save formats: Metis MDC; Color images: TIFF 48 or 24 bit; Normal Map: TIFF (Color 48 or 24 bit); Depth and Glossiness Maps: TIFF (Greyscale 16 or 8 bit)
Holding Table type: sliding drawer can fully extend in the front and back of the scanner to facilitate mounting the original but also for stitching purposes
Drawer size: 70x66cm (scanning area is anyway limited to 49x32cm)
Scanner sizes: 100 cm lenght, 71 cm width, 208 cm height
---
SURF

3D SCANNING SOFTWARE FEATURES
Runs natively at 64bit on Windows 10 Professional 64bit
Easy scanner calibration tools
Easy to use interface with Live View, Crop, Autofocus, etc.
Includes METIS Light Inspector software: directly integrated in the scanning software, it provides extended features as light and visual appearance post-processing, 3D depth map generation and optimization for the required use, glossiness map (reflectivity data), normal map, Automatic Stitching tools and much more
Generate standard TIFF files perfectly in register for color, 3D and Glossiness data
Includes METIS Color Profiler software: it perfectly and automatically handles scanner color accuracy with many extensive tools for calibrating, profiling, converting, validating colors and ICC profiles; it provides full ICC support from scan to visualization and from visualization to exported data
and much more
---
ONLY AVAILABLE IN SURF 3D ColorGATE EDITION
Includes a special scan mode allowing to capture one or more color charts generated from ColorGATE Production Server software (and printed using customer printer). Color charts are profiled and scanned in a special way within METIS SURF 3D software so as to provide required colorimetric data to ColorGATE profiling module allowing to create a printer ICC profile in a matter of a few minutes only.
Includes a standard license for ColorGATE Production Server software which also includes ColorGATE printer Profiling Module and a specific driver for METIS SURF 3D scanner.
ColorGATE Production Server can further be extended in order to directly drive one or more printers in the customer workflow. For further information on ColorGATE Production Server and options please contact ColorGATE directly at this link: www.colorgate.com
SURF 3D ColorGate Edition video