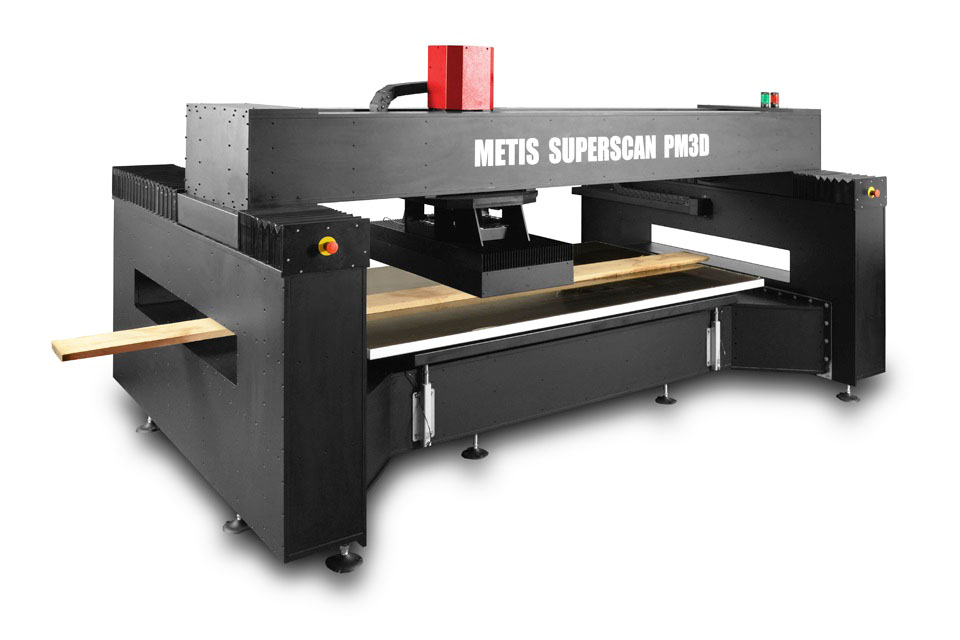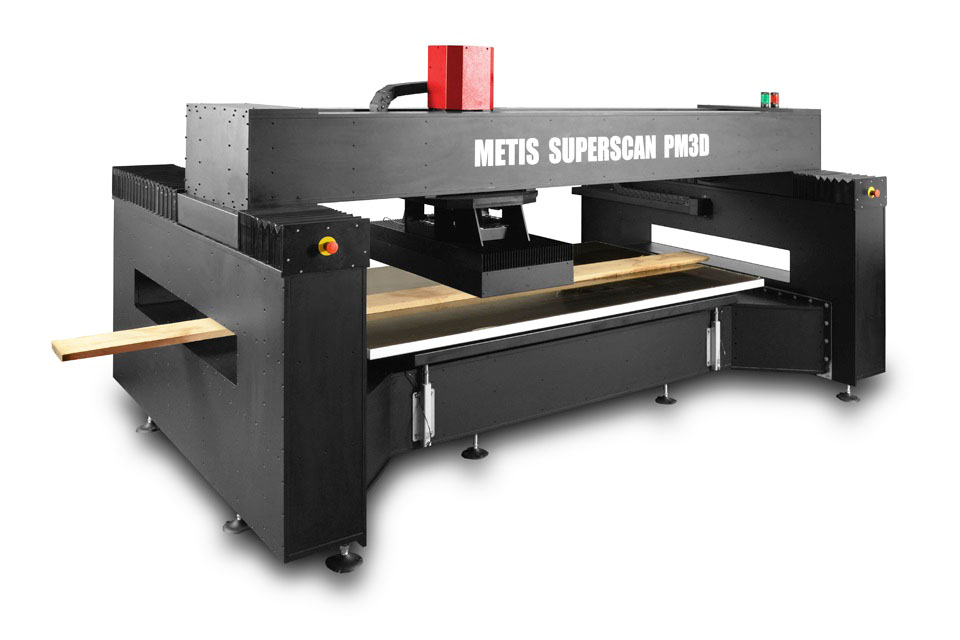 METIS SUPERSCAN PM3D
The METIS SUPERSCAN PM3D is an unmatched surface scanner with the most innovative solutions for industrial needs.
The PM3D integrates patented METIS technologies for the capture of color and appearance, the calculation of 3D data, glossiness, and more into a unique solution for a highly automated and productive workflow.
General details
The SUPERSCAN PM3D® is based on new scanning concepts invented in 2014 by METIS and aimed to respond to the special needs of the industrial, decoration and fine-art markets. In fact, the SUPERSCAN PM3D® integrates innovative and patent protected technologies that allow to scan color and calculate 3D surface embossing information from it and at very high resolution even on large originals as: a long plank of natural wood, a bolt of fabric, a massive canvas, etc.
This scanner extends the lighting and scanning capabilities of the METIS DRS-DCS family providing the ability to illuminate originals from 8 independent light sources. Thousands of different light schematics are possible and achieved automatically through sophisticated software and hardware controls.
3D data for the generation of Depth, Normal, and Glossiness MAPs is based on illuminating the object from different directions and then applying unique proprietary METIS algorithms.  These calculations result in a highly detailed 3D reconstruction of the original surface.  A wide variety of textured or embossed surfaces can be scanned with optimal results, from wood to tile, wallpapers to painted canvases, even glossy materials such as glazed ceramic or metallic finishes.
The SUPERSCAN PM3D® is the first scanner to overcome the resolution limits caused by the number of pixels in the imaging sensors thanks to an innovative opto-mechanical design that allows a native optical resolution of 1200 PPI over the full 200 x 130 cm (78.74 x 51.18 in) scanning area.
In addition, the METIS Scan Merge tool allows to scan very large originals (even those that exceed the scanning area) with perfect results.
The SUPERSCAN PM3D® adopts the new METIS Scan Director software that has been specially designed to fulfill the requirements of the industrial, fine-arts and decorative markets and for handling 3D data.
Technical Info
SUPERSCAN PM3D main features and specifications
Maximum scan format: 200 x 130 cm (78.74 x 51.18 in). Dimensions can be extended thanks to the proprietary Scan Merge tool, which allows for extremely accurate, easy, and highly automated stitching of separate captures.
Maximum thickness: ~ 10 cm (3.937 in)
Optical Resolution: 1200 PPI (adjustable from 100 to 3600 PPI)
Image sensor: Trilinear CCD – High Dynamic Range
Scanning technology: X-Y microscanning
Acquisition modes: Scan, Superscan, direct Superscan, DOF+ (various combinations are also possible)
Auto-focus positioning: table height automatically adjusted based on original thickness set in the scanning software
Lighting System: 8 light sources (4 sharp and 4 soft) that can be independently controlled and combined into thousands of different light schematics; continual monitoring of temperature and sophisticated cooling allow for stable and consistent emission of light and thus perfect results
Light source Type: High CRI LEDs, IR/UV free
Image processing: 16bit per channel (3 x 16bit)
METIS software: run natively at 64bit on Windows 10 Professional 64bit
Colorimetry: perfect colorimetric results with full ICC support
METIS Scan Director software: integrated for controlling the scanner and acquisition process
METIS Light Inspector software: integrated for editing Superscan files and for 3D Depth Map generation
Holding Table: 230 x 140 cm (99.55 x 55.11 in), can hold up to 200 Kg (440.92 lbs.), vertically motorized (software controlled), integrated pressure sensors
High grade precision/reliable mechanics and optics
Scanner sizes: 333 cm (131.10 in) length, 227 cm (89.37 in) width, 170 cm (66.93 in) height
Weight: ~1.800 Kg